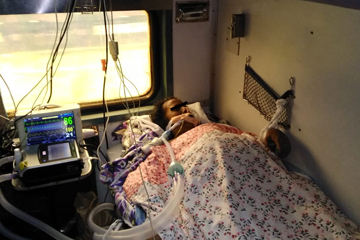 Train Ambulance Services are provided with an intention to serve the wider section of the society. We at HIFLY ICU provide extraordinary Train Ambulance Services from multiple locations with state of the art ICU Setup. We render Train Ambulance Service in reputed Trains like Rajdhani and Shatabdi Express. Generally, the AC-1 or AC-2 compartment of the train is booked and vital ICU equipment is installed.
The flexibility, Technical Superiority and added capacity are features of our train ambulance Services. Train ambulance services are highly dependable on the schedule of the Indian Railways. We leverage the advantage of vast Indian Railways network and provide excellent patient transportation services from remote locations throughout the year. Rail transportation is a boon in India and every day it transports several millions of civil and cargo between multiple locations. HIFLY ICU provides best in class medical train escort services with its dedicated and motivated team.
Some of the Key Advantage of HIFLY Train Ambulance Services
*State of the Art ICU Setup
*Bed to Bed Patient Transfer
*Served with Medical Team including Specialist Doctors and Paramedics
*En-route Patient Care with Compassion and Commitment
Advanced Low-Cost Train Ambulance Services with vital and life-saving ICU equipment can be booked anytime. We have a large pool of satisfied customer who availed our services in critical hours and got their patient transferred within time and hence the priceless life was saved.
HIFLY provides Medical Rail Ambulance Services from the following Locations
Delhi, Patna, Kolkata, Guwahati, Mumbai, Chennai, Bangalore, Dibrugarh, Allahabad, Jamshedpur, Ranchi, Silchar, Gorakhpur, Varanasi, Siliguri, Indore, Jabalpur, Raipur, Bhopal, Nagpur, Bagdogra