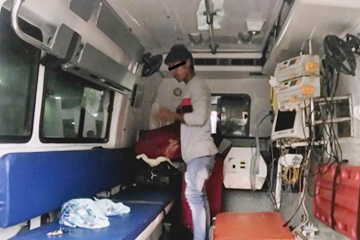 HiFly ICU is a leading emergency Ambulance service provider in the capital city of India, Delhi. We have different sorts of transportation systems including Air Ambulance Services, Train Medical Preservation Services, Ground Ambulance Services, etc. At the time of emergency situation, such amazing services proved to be a lot beneficial and the importance of it is mostly understood in those hard situations only.
The Ground Ambulance in Delhi plays a great role in transferring patient from one place to another in the quickest time possible. A critical situation can arrive at any time and that's why we are always present for you 24/7 to provide the highest health and medical assistance possible to anyone.
A lot of other Ambulance service providers make delay in reaching due to traffic issues but we at HiFly ICU have many transportation systems in different areas and know the best city routes to save downtime and even the patient from getting into more critical condition by reaching as early as possible at the medical facility. We also have the required medical facilities and trained experts right in our Road Ambulance in Delhi that start to work on their operation right from the time they get the patient inside the ambulance.
Our Ground Ambulance Services cater to almost all parts of Delhi whether new or old including in some places like Pitam Pura, Chandni Chowk, Dilshad Garden, Delhi NCR, Qutab Minar, Mayur Vihar, Delhi Cantt, Preet Vihar, Subhash Nagar, Shastri Nagar, Pratap Nagar, Jahangirpuri, Tilak Nagar, Janak Puri, Rajouri Garden, Jama Masjid, Kirti Nagar and many other places.
Conclusion:
We have great working staff in our end that is always there to listen to your requests and act appropriately. Any person can easily reach out to us in whatever method he prefers including online contact, mobile phone, etc.
HiFly ICU Road Ambulance in Delhi doesn't only cater in Delhi but almost all over India. We have different varieties of transportation services which we provide to our people as per their requirements. With time, we have plans to keep on expanding our services and reach to places where we have not yet reached so that basic facility like Healthcare can be accessed by all.