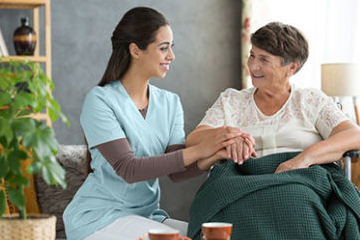 What is Our Home Nursing Service in Delhi?
Are you in need of dedicated in-home nursing care? We take pride in informing you that HIFLY ICU has taken an edge to offer you the highest quality of nursing in Delhi the capital state of India, to escort your loved ones. We at HIFLY ICU offer a diversity of services in the comfort of your home and potential quality and comfort round the clock. HIFLY ICU works with a sole motive to upsurge the patient's quality of life and avoid needless hospitalization.
In-home nursing facilities and amenities are the same nursing services provided at medical healthcare and institutions, but now in the coziness and ease of your home. We provide excellence, intensive healthcare, perfectly matched to your needs. Our prime aim is to render you with exclusive nursing services in entire Delhi, healthier than hospitals. What are you waiting for; call us today if you're looking for Home Nursing Care Services in Delhi.
HIFLY ICU's In-Home Nursing Care Services Include
Our in-home nurses are highly trained in rendering services such as helping ageing family member, post-surgical care, oxygen administration, IV infusions and injections, injury care, Catheterisation care, etc. Also, they are always supervised by the veteran senior doctor. This service can be for short visits like an IV infusion, injection, etc. or else can be for 12/24 hour intensive care.
Escorting Ageing Family Member – Our nursing care also comes with the assistance and support to the ageing member of the family in their day-to-day tasks as well as private care like food preparation, bathing, and other household activities.
Post –Surgical Care – HIFLY ICU Home nursing care services in Delhi will take intensive care of you during post-surgery, safeguarding a painless and quick recovery. Our staff will counter all your needs with compassionate love and concern.
Urinary Catheterisation Care – It is a personal and private procedure and it will be perfect if done in the privacy of your home. Our highly skilled nurses take care of insertion, wash, and exclusion of the catheter effectually.
IV Infusion and Injections – Our talented nurses also take care of other crucial procedures like injections and Intravenous therapy infusion required by a patient on a regular basis.
Injury Care – Our nurses have the top-notch art of getting you back to the best of health after severe injuries with in-home-nursing. They will take intensive care of the patient like a family member without not just bearing in mind your conditions, but also your personal requirements. Savour a stress-free recovery and cure yourself the best with our assistance.
Oxygen Administration – HIFLY ICU Home Nursing Service in Delhi also provides the patient, if in need the world-class oxygen administration that aids you with the flawless and uninterrupted procedure.
Why Choose HIFLY ICU In-Home Nursing Care Services Delhi?
HIFLY ICU possesses of the most skilled and competent nurses along with an alike incredible team of doctors and technicians to assist the patient with the perfect care one can probably experience. We as well aim to bring our widespread experience to patient's home, rendering him/her the ideal curing time. If you're in need for Home Nursing Services in Delhi, Patna, Ranchi, Chennai, Guwahati or in any other city, you can rely on HIFLY ICU for ultimate care and support.